The Great Bent Larsen
Jørgen Bent Larsen was born in March 4th, 1935, at the small Danish city of Tilsted, located in the northwest part of the country. During his childhood, due to a very fragile health, he spent most of his time at home. This is probably the reason why, in the same period, Larsen had his first contact with chess.
The results started to bloom shortly after in numerous tournaments. Still, only at seventeen, when he moved to the country's capital city, Copenhagen, with the intention of studying Civil Engineering, that Larsen realized chess would be more than a mere hobby to him. He never graduated as a Civil Engineer…
…but, in 1954, at nineteen, he not only won his first National Chess Champion title, but also achieved the title of International Master. (He would repeat the feat five more times, in 1955, 1956, 1959, 1963 and 1964; moreover, he didn't win the Championship in the lacking years because he didn't dispute the title). The achievement was due to his formidable performance in the 1954 Olympiad (hosted in Amsterdam, Netherlands): a bronze medal on the first board.
The Grandmaster Title would come two years later, in 1956, in another Olympiad – this time, in Moscow, the chess capital of the world (even more notably during the "Iron Curtain" period). Larsen was again on the first board; but this time, with 11 outstanding wins, 6 draws and only one defeat (!), snatched the gold medal – and even managed to draw a game against no less than Mikhail Botvinnik. Larsen was the first Western chessplayer to represent a real threat to the Soviet monopoly. In the famous match "USSR vs Rest of the World" in Belgrade, 1970, Larsen played in the #1 board, ahead of Fischer, and scored 2,5/4 – against Boris Spassky and Leonid Stein.
Larsen won three Interzonal tournaments: Amsterdam Interzonal (1964), in which he shared the first place with two ex-world champions (Vasily Smyslov e Mikhail Tal) and a future champion (Boris Spassky); Sousse Interzonal (1967) – in this year, he was awarded with the first Chess Oscar; and Biel Interzonal (1976). Larsen and Mikhail Tal were the only chessplayers to win three Interzonals.
An article posted by the renowned Chess Review, in 1967: "A great year for Larsen"
In the 1965 Candidates Tournament, Bent Larsen was defeated, in the semifinals, by Mikhail Tal; and, in 1968, he would lose to Boris Spassky, who would win the World Champion title in the same year. But maybe the hardest blow he received was at the 1971 Candidates semifinals – Larsen was defeated by Bobby Fischer by a crushing 0:6 score. Before the dispute, when asked about how the match against Fischer would be, Larsen answered: "I'll destroy Bobby Fischer (…)." After the match, Tal commented: "Larsen didn't manage to have the advantage in even one move".
Fischer and Larsen – 1970
The truth is that both the score and Tal's sour statement didn't completely reflect this fateful meeting. This elastic score was due only to the fact that Larsen kept playing to win all the games. After the first two defeats (with a special highlight on the first game – it was an amazing battle, regardless of the final result), and notably after the third one, without a doubt, Larsen was in lack of common sense; he just couldn't win against Fischer "by force". By the other hand, audacity, risks and even a little bit of recklessness were part of Larsen's gameplay bases, side by side with his optimism and his outstanding self-confidence. His statement, made shortly thereafter his defeat in the match, is a great example of it:
"Despite my 0:6 defeat in Denver, I think that I would have more advantage against Spassky. It's true that I'm a better tournament player than a match player, but I think that I'm learning how to play match [games]. And Denver was very hot and dry – I don't like this kind of weather. Yes, I think that I would stand a chance against Fischer in another match. I don't think he's technically superior to me. After all, he only has 3-2 against me in other games."
It may look like he's being arrogant, but it's precisely the opposite; Larsen loved chess so much that this love went beyond of just winning – and his following statement is a priceless lesson to all chessplayers:
"The key is not to be afraid of losing. Why should I be afraid? Although chess is my job, and a very important part of my life, if I lose, I know two things: first, it's just a game; and second, even making some risks, I'll win more than I'll lose. For some masters, to lose on a chess game is almost like dying; to me, it's definitely not like this."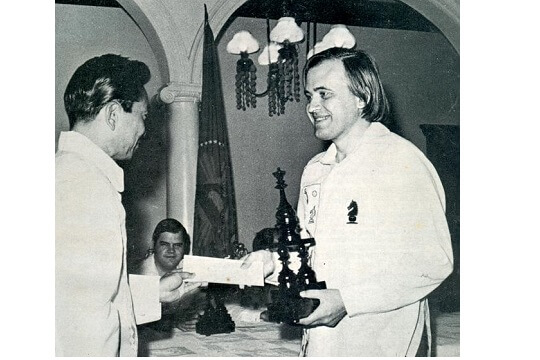 The ex-world champion Garry Kasparov, in his My Great Predecessors, pities the lack of more "Larsens" in the current chess world. Owner of a bold gameplay style, to say the least, Larsen was a chess genius. Famous for exploiting uncommon openings, he was one of the few modern grandmasters to play regularly the Bird opening (1.f4), as of the Alekhine defense (1. e4 Nf6), the less than usual Caro-Kann with 4…Nf6 followed by 5… gxf6 (1.e4 c6 2.d4 d5 3.Nc3 dxe4 4.Nxe4 Nf6 5.Nxf6+ gxf6) and even the Scandinavian defense (1.e4 d5), that helped him win against the one and only ex-world champion Anatoly Karpov. The still popular Queen's Gambit Declined Semi-Slav Meran defense also owes Larsen and his research. But his great contribution was on the ideas involving the 1.b3 move – today, this move is called a Larsen Opening, in his honor.
In the seventies Larsen moved, together with his Argentinian wife, to Buenos Aires. He died on September 9th, 2010, when he was 75 years old.
"I think that people like Bent Larsen are indispensable to the chess world; without them, it would be gray and grumpy. Look at the current grandmasters: where is the colorful palette that Larsen gave to us? And, despite how great were the competitive barriers that creators in the same level as Larsen had, they always stood out among the average players, playing real chess and continuously evolving it" (Garry Kasparov).
Written by Academia de Xadrez Rafael Leitão's Team on April 8th, 2017